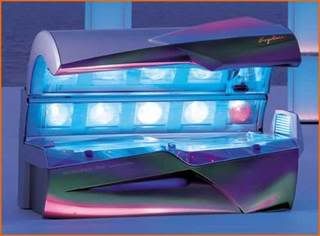 I've always been what I like to call a "tanorexic" haha! For the last 7 years I've always had a membership at some tanning place. Usually it's at Pink Coconut because they have the best deals on one year memberships. Anyways, I got one for my birthday/mother's day this year and I have barely used it and it's almost 6 months into my membership! YIKES! I'm trying to make a conscious effort to use it more and bring my tanning lotion with me all the time. After work I'll be stopping in at the Pink Coconut down the road from my work. What sucks is that now that we've moved there isn't one close by our house, so I either have to drive up to Bonney Lake, Puyallup or Sumner... bummer! Oh well... I'm hoping to go at least 4 times in the next 7 days... we have a Halloween Party on Saturday and I am hoping to not be pasty white haha!
On a totally different note... during my boring day on the internet at work, I found a great site!
Hand Bag Planet
. I am hoping to purchase something on here soon! It's been over a year since my last splurge and I'm in desperate need!!!